***黄金周***
2018年10月1号是中国的国庆节,又名"十一"。为了欢度国庆节, 一个星期从一号到七号是国定假日,又名"黄金周"。我没有课,所以我跟一个同学去了云南省旅行。 还有是一个好机会练习汉语!
我们坐了高铁从北京西站到昆明南站,十个小时。这个高铁线路是世界上的最长,二千七百公里!昆明是云南省的首都,是一个大城市,人口是七白万左右。我们在那里两天了。我们去了绿公园,云南大学,还有一些美术馆和博物馆参观。我们也发现了云南菜好吃极了!我们品尝地方风味比如:过桥米线(米线汤),煎乳饼,还很多羊肉。
然后我们坐了公共汽车从昆明到大理,四个半小时. 大理比昆明小和漂亮多了!大理在一个大湖边的.第一天我们坐了出租车去湖边再游泳。大理也有一个好看的古城。第二天我们骑着了自行车到处转。我们发现了很多好吃的饭店和好玩的酒吧,虽然也有很多游人!大理的周围也有一些山。第三天我们爬最高的山了。从山上的风景很好看!我们可以看全大理和胡。
***Golden Week***
The 1stOctober 2018 was theChinese National Day holiday, also known as "10/1". In celebration, there was a week's holiday from the 1stto the 7th, also known as "Golden Week". I didn't have class for the week, so I went travelling with a classmate in Yunnan Province. It was also a good opportunity to practise my Chinese!
We took the high-speed train from Beijing West to Kunming South, taking 10 hours. At 2700km, it is the longest high-speed railway line in the world! Kunming is the capital city of Yunnan Province, a large city with about 7 million people. We spent 2 days there. We visited the Green park, the University of Yunnan and a few art galleries and museums. We found that Yunnanese food was extremely delicious! We tried local delicacies such as: "going-over the bridge noodles" (rice noodles in soup), pan-fried goat's cheese and lots of lamb.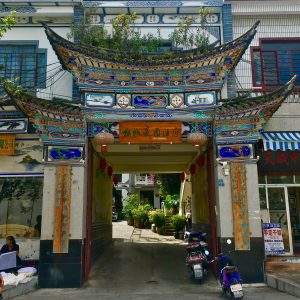 We then took the bus from Kunming to Dali, which took 4 and a half hours. Dali is much smaller and prettier than Kunming. It sits on the edge of big lake. On the first day we took a taxi to the lakeside and went swimming. Dali also has an old town, so on the second day we rode bicycles around. There were lots of delicious restaurants and fun bars, although there were also lots of tourists! Surrounding Dali there are also several mountains. On the third day we climbed the highest one. The view from the top of the mountain was beautiful. We could see the whole of Dali and the lake.