Këtë muaj dua të shkruaj për Bibliotekën Kombëtare të Kosovës "Pjetër Bogdani" (if you want to include the name). Biblioteka është një nga objektet më të njohura dhe më të shquara në Prishtinë. Është biblioteka më e madhe dhe më e vizituar në Kosovë. Arkitekturisht, ajo ndan opinionin, por më pëlqen stili i saj ekscentrik. Ajo u hap në vitin 1982 dhe u projektua nga arkitekti kroat Andrija Mutnjaković kur Kosova ishte pjesë e Jugosllavisë. Ndërtesa ka 99 kupola të bardha dhe është e mbështjellë në një rrjetë metalike. Kupolat e bardha kanë për qëllim të përfaqësojnë "plisin", një kapelë tradicionale shqiptare. Kjo simbolikë ishte e diskutueshme në mesin e politikanëve serbë kur u hap. Rrjeta metalike ndihmon për të mbajtur diellin nga brenda dhe gjithashtu përfaqëson filigranin – një traditë e punës së metaleve. Arkitektura është menduar të jetë një përzierje e stileve bizantine dhe islamike.
Këtë fundjavë pata kënaqësinë të merrja pjesë në një festival ndërkombëtar të letërsisë këtu të quajtur "polip". Kjo ishte interesante për mua pasi kam studiuar letërsi në universitet dhe gjithashtu sepse bashkon shkrimtarë nga i gjithë rajoni i Ballkanit për të pasur lexime dhe diskutime. Kishte autorë nga Kosova, nga shumë vende të Ballkanit dhe nga pjesa tjetër e Evropës. Ishte e mrekullueshme të shihje autorët të lexonin punën e tyre dhe pasuan disa diskutime vërtet interesante. Temat e diskutuara përfshinin rolet gjinore në Kosovë, gjë që ishte shumë interesante. Ata diskutuan gjithashtu luftën në Ukrainë dhe ndanë përvojat e tyre gjatë shpërbërjes së Jugosllavisë. Ka qenë e mrekullueshme të përjetosh festivalin dhe të shohësh shkëmbimin mes autorëve nga të gjitha anët.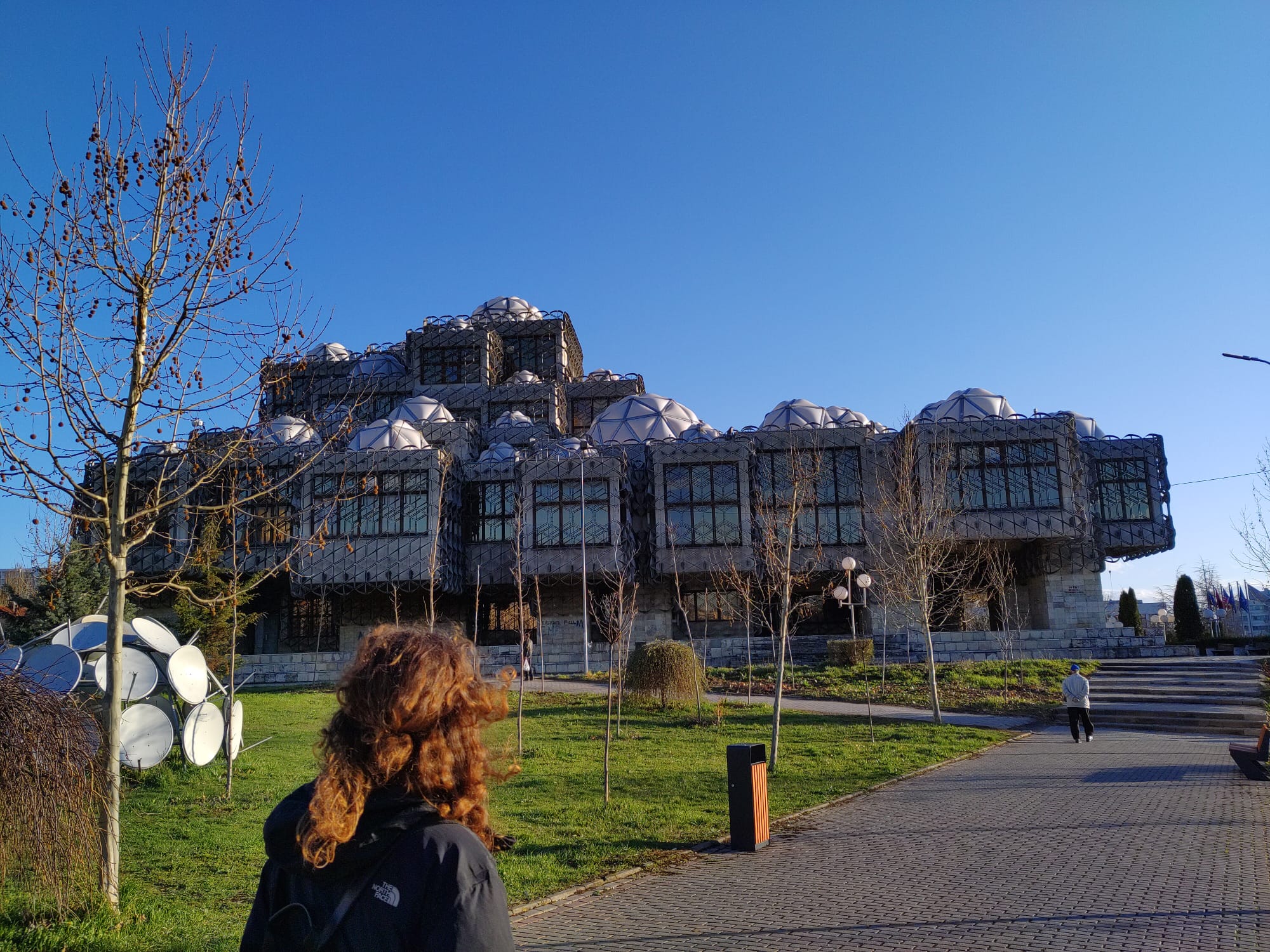 This month I would like to write about the National Library of Prishtina. The library is one of the most famous and notable buildings in Prishtina. It is the largest and most visited library in Kosovo. Architecturally, it divides opinion but I like its eccentric style. It opened in 1982 and was designed by Croatian architect Andrija Mutnjaković when Kosovo was part of Yugoslavia. The building has 99 white domes and is draped in a metal net. The white domes are meant to represent the "plis" , a traditional Albanian hat. This symbolism was controversial among Serbian politicians when it was opened. The metal net helps to keep sun from inside and also represents filigree – a metal working tradition. The architecture is meant to be a mixture of Byzantine and Islamic styles.
This weekend I had the pleasure to attend an international literature festival here called "polip". This was interesting to me as I studied literature at University and also because it brings writers from around the Balkan region together to have readings and discussions. There were authors from Kosovo, many Balkan countries and from the rest of Europe. It was great to see the authors read their work and some really interesting discussions followed. The subjects discussed included gender roles in Kosovo which was very interesting. They also discussed the war in Ukraine and shared their own experiences during the breakup of Yugoslavia. It has been great to experience the festival and see the exchange between authors from all over.