He estado aquí un mes ahora, y ya me siento como si fuera mi hogar. Dicho eso, llegar a este punto no fue un camino fácil. Aunque el estilo de vida relajado de los españoles parezca increíble cuando estas en la playa tomando unas copas con amigos, enfrentar la burocracia española relajada es una pesadilla. Para obtener mis documentos, tuve que ir 6 veces a la oficina de extranjería, 4 veces al ayuntamiento, 2 veces al policía local y 2 al registro. Te aconsejo que si quieres moverte a España, que te lleves contigo todos los documentos que tienes, y fotocopias. El lado positivo es que mi nivel de español ha mejorado sin duda. Si quieres aprender el español, y salir del terreno familiar, intenta enfrontar la burocracia española, y dentro de nada, habrás dominado la lengua local.
En un tono menos serio, ayer hice un paso en falso; fui a comprar un baguette y mantequilla para mi desayuno, – el pan recién hecho aquí es para morirse, – pero lo que compré fue "Levadura fresca", que, a mis ojos, parece muy similar a un paquete de mantequilla. Así que, después de comer un poco, pensando que saborea un poco raro, lo busqué en Google y, que horror, ¡descubrí lo que había comido! ¡Pensaba que estaba acostumbrándome a la vida aquí, pero aparece que me he equivocado! Otra cosa de los supermercados por aquí es que no se venden ciertas cosas. Dairy Milk, "peanut butter", y salsa para la pasta no se vende por aquí.
Aunque aquí tienen muchas fiestas, una cosa que le echo de menos es "Bonfire Night". En Inglaterra, lo celebramos con fuegos artificiales y manzanas acarameladas. Claro que no lo celebran aquí, pero encontré una de estas manzanas en una fiesta medieval, así que lo compré para hacerme pensar en Inglaterra. Aquí la comida popular es "Rgaifa" y dátiles, – Rgaifa es una forma de tortita con mermelada de albercoque y miel, y comen dátiles como parte de una fiesta que se llama "mochila", que celebra la cosecha.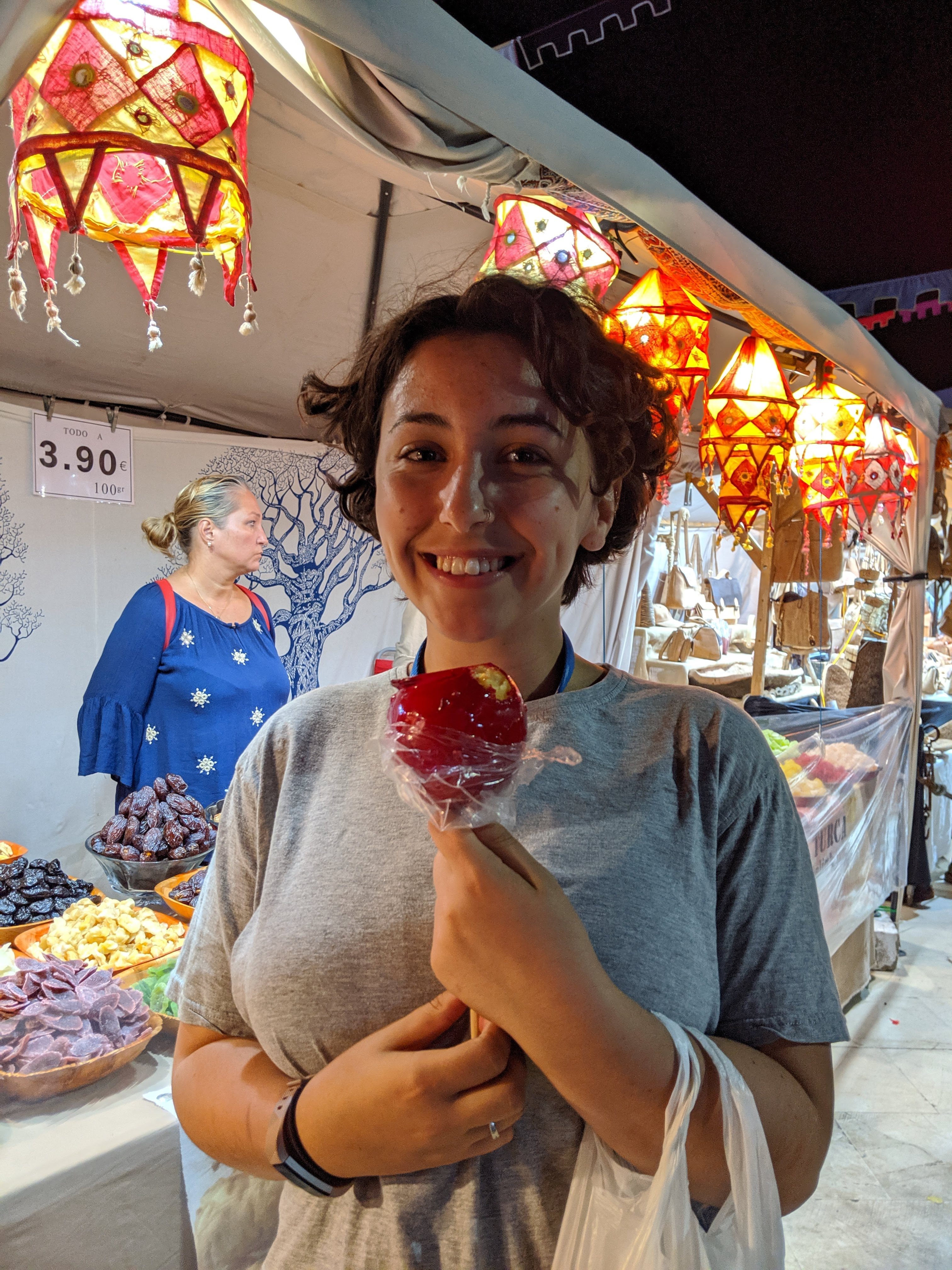 I have been here a month now, and it already feels like home to me. That being said, getting to this stage has not been an easy path. Although the laid back, relaxed lifestyle of the Spanish seems incredible when you're laying on a beach, having a few drinks with your friends, dealing with the laid back Spanish bureaucracy is a nightmare. In order to get my documents, I have had to go 6 times to the foreigner's office, 4 times to the town hall, twice to the local police station, and twice to the registry office. I advise you, that if you plan on moving to Spain, that you bring with you every document you own, absolutely all of them! And photocopies of each of them too. On the bright side, my Spanish has definitely improved. If you really want to get to grips with Spanish, and get out of your comfort zone, try dealing with Spanish bureaucracy – you will be fluent in no time!
On a better note, yesterday I made a bit of a faux pas – trying to buy a baguette and some butter for my lunch, – the freshly baked bread here is to die for – however what I actually bought was "levadura fresca", which to my eyes looked the same as a packet of butter. So, after eating a little, thinking it tasted a little off, I googled it and it and – to my horror – discovered that what I had been eating was in fact yeast. I had thought I was getting the hang of grocery shopping here, but apparently there's still a way to go! And another thing – the supermarkets here don't sell certain things. Dairy Milk chocolate, peanut butter, and pasta sauces don't seem to be a thing here.
Although here they have a lot of festivals, one thing that I miss is Bonfire Night. In England we celebrate it with fireworks and toffee apples. Obviously it is not celebrated here, but I found some of these candy apples at a medieval festival, and bought one to remind myself of home. Here the popular food is Rgaifa and dates – Rgaifa is a sort of Moroccan sweet pancake, with apricot jam and honey, and dates are eaten here as part of a festival called "mochila" (literally backpack), celebrating the harvest.