Je suis actuellement en plein milieu de ma durée à Paris et il a l'impression d'être chez moi.  Alors que je passe plus de temps ici, tout devient plus facile – mon niveau de français s'améliore constamment ce qui signifie que la communication devient sans effort et aussi je connais maintenant très bien mes environs donc je suis tellement à l'aise pour voyager en ville.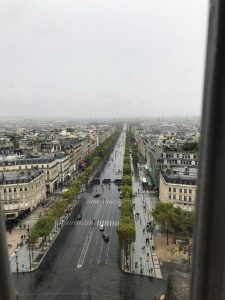 Le seul problème que j'ai regardé en face ce mois a coïncidé avec l'une des manifestations notoires des « gilet jaunes ».  Pendant que je suis ici, j'ai seulement eu une poignée de problèmes les samedis quand j'essaye de voyager autour de la ville au même temps que les manifestations.  Mais, pendant les journées européennes du patrimoine, le trajet était un cauchemar ! Plus de 7.000 policiers ont été déployés pour essayer de contenir les quelques 8.000 manifestants qui protestaient contre le gouvernement et la hausse des taxes sur l'essence.  La majorité des gens se sont rassemblés sur les Champs-Elysées, donc pour tenter de les contenir et les éviter de descendre vers le musée de Louvre, plusieurs ponts, rues et tous des stations du métro autour des 1er, 7e et 8e arrondissements ont été fermés.  Pour cette raison, ma journée de promenades dans les rues a été interrompue et j'ai dû rediriger un voyage qui aurait dû prendre 40 minutes, ce qui a pris près de deux heures ! Bien que ce ne fût pas idéal et que j'ai vraiment mal aux jambes, cela m'a prouvé que je connaissais actuellement une grande partie de la ville et que je commençais à ressembler une vraie Parisienne davantage que une touriste.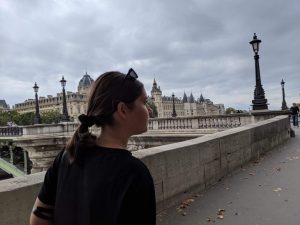 I'm now half-way through my time in Paris and it feels like home.  As I am spending more time here everything is getting easier –my French is constantly improving which means that communication is becoming effortless and I'm now very familiar with my surroundings so I am really comfortable travelling around the city.
The only problem I faced this month coincided with one of the infamous 'gilet jaunes' protests.  Whilst I have been here, I have only had a handful of problems on Saturdays, trying to get around the city whilst the protests happen, but during the French heritage weekend it was a nightmare! More than 7,000 police officers were deployed to try to contain the estimated 8,000 demonstrators who were protesting against the government and rising fuel taxes.  The majority of people gathered on the Champs-Elysées, so in an attempt to contain them and stop them from travelling down towards the Louvre museum, numerous bridges, streets and all of the metro stops around the 1st, 7th and 8th arrondissements were closed.  Because of this, my day of casually strolling around the streets was interrupted and I had to reroute a journey that should have taken 40 minutes to walk, which instead took close to two hours!  Whilst this wasn't ideal and definitely put a strain on my legs, it proved to me that I now know a large part of the city and I'm starting to become more like a local than a tourist.