Remember how excited I was for Fete Kaf in the last entry? Well, I was not let down in the slightest! It was incredible. I feel like I've over-used the words "incredible", "amazing", "breath-taking" in these blog entries but they are the only words that have the ability to capture and convey the magic and beauty I have seen here. Fete Kaf was indeed incredible. Lulu (my friend) and I dressed ourselves in our Sunday best, not wanting to downplay the significance of the day. As previously mentioned in my December report Fete Kaf is held each year on the 20th of December in major towns and cities all of over Reunion Island to commemorate the abolition of slavery.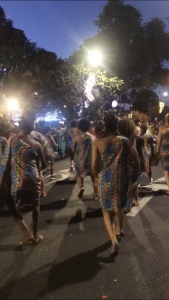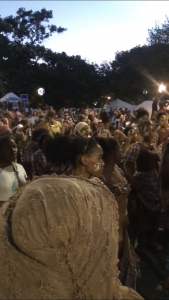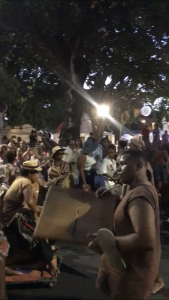 It is a major celebration of the diverse populations on the island and its patrimony. As we lived in Saint-Denis, the capital city based in the north of the island, we remained there to celebrate Fete Kaf. Upon entering the bustling quarter of Barachois, three huge performance stages, draped with black promotional banners stood tall and proud. To our right, extreme neon lights contrasted the sombre mood. Roller Coasters, claw machines, an array of food trucks. There were big posters of important figures from the island's history carefully placed around. There was something for everyone. In the street a massive parade had started. A penguin started it off? It appeared to be the mascot of Saint-Denis. It was incredibly ironic that a penguin is the mascot of a city located in the Indian Ocean. Quite hilarious actually. The parade consisted of many different cultural associations, showing off the work they had been doing all year. Children and adults danced and chanted together, each association representing the different ethnic groups of la Reunion. The malgasy people, the Tamoil community, the Mahorise (Mayotte) etc. Stunning outfits, a lot of them hand made, to represent the history of slavery on the island. I looked around, saw the faces in the procession, filled with pride and joy while they marched.I teared up. It was beautiful to witness. The sky clouded and the sun set, so after stuffing our stomachs with kebabs we headed to the main stage. A famous creole singer by the name of Lindigo performed with a band and the crowd went absolutely crazy. We danced and danced and danced to Malya. It was impossible for even the worst dancer to stand still. By the end of the day everyone was drenched and soaking wet while singing in the rain. The heavens had opened and it began to pour down, but everyone was enjoying themselves so much we were hardly bothered. That was fete Kaf and I enjoyed myself thoroughly.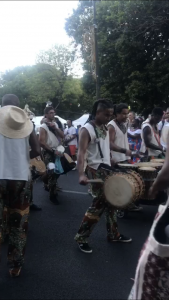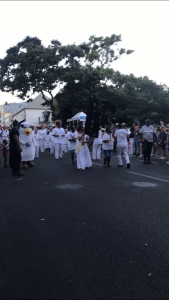 I have had many positive takeaways from my time at Reunion and a lot of interesting takeaways. I major observation I have made here is that family is incredibly important. Everyone is so family-orientated. What's different here than back home in London is that the families in general are huge! Family isn't divided into immediate and extended, everyone is just family! Also the diverse heritage in a lot of families! The tourism slogan for the island is "a melting pot of cultures" and that is not an exaggeration in the slightest. In Reunion families you can have a Tamoil uncle, a creole mother, a Yab father (ethnic group located in the south of the island). It's incredible to observe, honestly, different cultures and religions located within the same family and everyone having mutual respect for one another. In saying that, I do not wish to pretend that Reunion doesn't share similar social issues that are in fact global. Nonetheless, the coexistence and the family centric life on that island is truly remarkable.
I have learnt a lot about myself and the world over these 5 months. There are some hard experiences I have gone through but I am choosing to focus more on the positive rather than the negative. I deserve to have fond memories of my year abroad and I don't believe in letting things that were out of my control ruin a lot of good memories I made. I have learnt that I am incredibly strong and brave, braver than I thought I was. I learnt that I am resilient, independent and passionate. I had never lived by myself before and being on an island thousands of miles away from my home living with strangers who then turned friends was an experience! Adjusting was hard, in all honesty, especially if you remember me saying that I got chased by dogs and had my luggage lost on the first day! But these are memories I can now look back at and laugh at considering how far I have come. I have met so many different people with different worldviews and experiences. It was incredibly refreshing to be in a new environment and learn about a different society, as well as interact with other European students on the ERASMUS programme. I am very interested in social and political issues and having to explain Brexit in french when I can hardly do so in English was quite funny. I am so happy I met a lot of really good and kind hearted people in Reunion, people I do truly wish to see again.
I think Reunion island is a gem. A thousand percent. It is such a shame the majority of people aren't even aware of its existence. It has so much to offer, an active volcano, beautiful beaches, amazing food, incredible samosas! I strongly recommend travelling to Reunion if one has the opportunity, it deserves to be discovered.
The next stop for me is Guadeloupe in the French West Indies! I have managed to secure an internship working as a translator and holding english lessons for local children in the libraries. I can not even begin to explain how excited I am, I wasn't sure I would end up going to Guadeloupe as I had a LOT of rejections, but things have really worked out in the end. Next time you hear from me I will be in the Caribbean! 
Vous vous souvenez de mon enthousiasme pour la Fête du Kaf dans la dernière entrée ? Eh bien, je n'ai pas été déçu du tout ! C'était incroyable. J'ai l'impression d'avoir trop utilisé les mots "incroyable", "stupéfiant", "époustouflant" dans ces articles de blog, mais ce sont les seuls mots qui ont la capacité de capturer et de transmettre la magie et la beauté que j'ai vues ici. Fête Kaf était en effet incroyable. Lulu (mon amie) et moi nous sommes habillés en nos plus beaux, comme on ne voulait pas de minimiser l'importance de la journée. Comme je ai déjà mentionné dans mon rapport de décembre, la Fête Kaf se passe chaque année le 20 décembre dans les grandes villes de l'île de la Réunion pour commémorer l'abolition de l'esclavage. C'est une célébration majeure des diverses populations de l'île et de son patrimoine. Comme nous vivions à Saint-Denis, la capitale basée dans le nord de l'île, nous sommes restées là pour célébrer la fête du Kaf. En entrant dans le quartier animé du Barachois, trois immenses scènes de spectacles, drapées de bannières promotionnelles noires, se dressaient fièrement. À notre droite, les couleurs néons contrastaient extrêmement avec l'ambiance sombre. Des montagnes russes, des machines à griffes, plusieurs camions de nourriture. De grandes affiches de personnages importants de l'histoire sur l'île étaient  placées aux alentours soigneusement. Il y avait quelque chose pour tout le monde. Dans la rue, un défilé massif avait commencé. C'est un pingouin qui a commencé ? Il semblait être la mascotte de Saint-Denis. Il était incroyablement ironique qu'un pingouin soit la mascotte d'une ville située dans l'océan Indien. C'est assez drole en fait. Le défilé était composé de nombreuses associations culturelles différentes, montrant le travail qu'elles avaient fait toute l'année. Enfants et adultes ont dansé et chanté ensemble, chaque association représentant les différentes ethnies de la Réunion. Le peuple malgache, la communauté tamoule, les mahorais (Mayotte) etc. Les tenues magnifiques, dont beaucoup sont faites à la main, pour représenter l'histoire de l'esclavage sur l'île. J'ai regardé autour de moi, j'ai vu les visages dans la foule, remplit de fierté et de joie pendant qu'ils défilaient. C'était beau à voir. Le ciel s'est couvert et le soleil s'est couché, alors après nous avons fait le plein avec des kebabs, nous nous sommes dirigés vers la scène principale. Un célèbre chanteur créole du nom de Lindigo s'est produit avec un groupe et la foule est devenue complètement folle. Nous avons dansé et dansé et dansé sur Malya. Il était impossible pour le pire des danseurs de rester immobiles. À la fin de la journée, tout le monde était trempé et détrempé en chantant sous la pluie. Le ciel s'était ouvert et il a commencé à pleuvoir, mais tout le monde s'amusait tellement que nous n'étions guère dérangés. C'était la fête Kaf et je me suis bien amusé.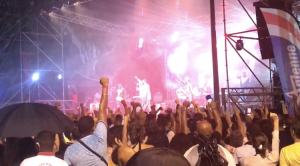 J'ai eu beaucoup de bons moments à la Réunion et beaucoup de moments intéressants. La principale observation que j'ai faite ici est que la famille est incroyablement importante. Tout le monde est tellement axé sur la famille. Ce qui est différent ici qu'à Londres, c'est que les familles en général sont énormes ! La famille n'est pas divisée en immédiate et étendue, tout le monde est juste de la famille ! Il y a aussi l'héritage diversifié de beaucoup de familles ! Le slogan touristique de l'île est "un melting-pot de cultures" et ce n'est pas du tout une exagération. Dans les familles réunionnaises, on peut avoir un oncle tamoul, une mère créole, un père Yab (ethnie située dans le sud de l'île). C'est incroyable d'observer, honnêtement, des cultures et des religions différentes au sein d'une même famille et que tout le monde se respecte mutuellement. En disant cela, je ne veux pas prétendre que la Réunion ne partage pas des problèmes sociaux similaires qui sont en fait mondiaux. Néanmoins, la coexistence et la vie centrée sur la famille sur cette île est vraiment remarquable.
J'ai beaucoup appris sur moi-même et sur le monde au cours de ces cinq mois. J'ai vécu des expériences difficiles, mais je choisis de me concentrer davantage sur le positif que sur le négatif. Je mérite d'avoir de bons souvenirs de mon année à l'étranger et je ne crois pas qu'il faille laisser des choses qui étaient hors de mon contrôle ruiner beaucoup de bons souvenirs que j'ai faits. J'ai appris que je suis incroyablement forte et courageuse, plus courageuse que je ne le pensais. J'ai appris que je suis résiliente, indépendante et passionnée. Je n'avais jamais vécu seule auparavant et être sur une île à des milliers de kilomètres de chez moi, vivre avec des étrangers qui se sont ensuite transformés en amis a été une expérience ! L'adaptation a été difficile, en toute honnêteté, surtout si vous vous souvenez que j'ai dit que j'avais été poursuivie par des chiens et que j'avais perdu mes bagages le premier jour ! Mais ce sont des souvenirs que je peux maintenant regarder en arrière et rire en considérant tout le chemin parcouru. J'ai rencontré tant de personnes différentes avec des visions du monde et des expériences différentes. C'était incroyablement rafraîchissant d'être dans un nouvel environnement et d'apprendre à connaître une société différente, ainsi que d'interagir avec d'autres étudiants européens dans le cadre du programme ERASMUS. Je suis très intéressé par les questions sociales et politiques et devoir expliquer Brexit en français alors que je peux difficilement le faire en anglais était assez amusant. Je suis très heureuse d'avoir rencontré beaucoup de gens vraiment bons et gentils à la Réunion, des gens que je souhaite vraiment revoir.
Je pense que l'île de la Réunion est un joyau. A mille pour cent. C'est tellement dommage que la majorité des gens ne soient même pas conscients de son existence. Elle a tellement beaucoup d'offrir, un volcan actif, les belles plages, la nourriture incroyable, les samosas incroyables ! Je recommande vivement de se rendre à la Réunion si l'on en a l'occasion, elle mérite d'être découverte.
La prochaine étape pour moi est la Guadeloupe aux Antilles françaises ! J'ai réussi à obtenir un stage en travaillant comme traductrice et en donnant des cours d'anglais aux enfants de la région dans les bibliothèques. Je ne peux même pas commencer à expliquer à quel point je suis excitée, je n'étais pas sûre de finir par aller en Guadeloupe car j'ai eu BEAUCOUP de refus, mais les choses ont vraiment bien fonctionné au final. La prochaine fois que vous aurez de mes nouvelles, je serai dans les Caraïbes !