Amy Clark – Palma de Mallorca – Abril 2015
Estoy disfrutando mucho mi tiempo aquí; Palma es un lugar tan bonito, hay muchísimas cosas para hacer y ver y finalmente el tiempo esta increíble. Para Semana Santa mi novio vino aquí por 4 días, el vuelo fue un poco caro porque Semana Santa es una feria en Palma y hay muchas fiestas que duran casi dos semanas que significa que los precios siempre están altos. De todos modos, valió la pena porque no nos vimos para mucho tiempo y estaba muy bien para pasar algunos días juntos.  Cuando llegó el viernes fuimos a una restaurante que está situada en el puerto, se llama Mar de Nudos, al principio decidíamos solo tomar algo para beber pero cuando nos vimos la comida de los otros clientes nos cambiamos de idea! La comida estaba buenísima, una de las comidas mejores que hemos comido, además el tiempo estaba tan agregable y pasábamos un día estupendo.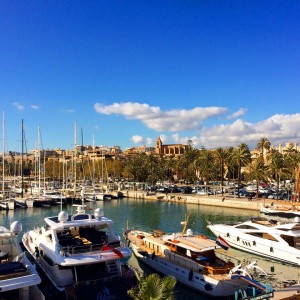 El sábado fuimos a una playa que se llama Ses Illetes, que está ubicada 30 minutes en bus del centro de Palma, está muy bonita, el mar es tan claro y las vistas son impresionantes. Cuando llegamos, tomamos algo en el bar y allí nos vimos el jugador de futbol famoso y estrella tv de ´A league of their own´, Jamie Redknapp en la playa con su familia, no podíamos creerlo, pero después nos descubrimos que él tiene una villa aquí.
También, el sábado pasado mis amigos y yo alquilamos un minivan por todo el día, no estuve muy cara porque haya 9 personas para compartir el precio, que estuve bien. Nos visitamos dos playa tan bonitas, una de las dos es una playa totalmente natural, no hay bares, facilidades o algo así, ¡simplemente el mar, la arena y el sol! Mallorca verdaderamente es una isla bonita.
Otra cosa interesante para mí fue el martes de esta semana, porque tenía la oportunidad de ir a un de los mejores hoteles de Melia que es 5 estrellas, que está situado al lado del mar con vistas panorámicas magnificentes. Fui con mi jefe porque ella ha organizado todo para este grande evento que fue para todos los jefes importantes y empleadores de Melia de todos los diferentes regiones. Mi jefe mi dije que sería muy interesante para asistir el evento para ver cómo se funcionan las cosas  y para aprender nuevas cosas de la empresa y del tema de Marketing Digital. Para el almuerzo haya un buffet de comida caliente y frio, postres y bebidas y todo estuve gratis. Fue muy interesante y beneficial para mí para escuchar a todas las presentaciones en español y también para participar en los workshops.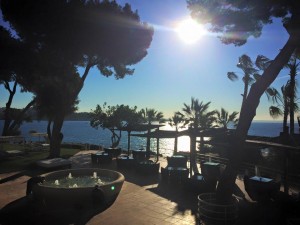 ENGLISH TRANSLATION:
I'm enjoying my time here; Palma is a beautiful place, there´s lots of things to do and see and finally, the weather is amazing! For Easter my boyfriend came here for 4 days, the flight was a little bit expensive because here in Palma Easter is a Bank Holiday and there´s lots of celebrations that last about 2 weeks which means that the prices are always quite high. Anyway, it was worth it as we hadn´t seen each other for a while and it was really nice to spend time together. When he arrived on Friday we went to a restaurant on the port, called Mar de Nudos, in the beginning we were just going to have a drink but when we saw the other customers food we changed our minds! The food was so nice, one of the best meals we have had, plus, the weather was great and we had a really nice day.
Saturday we went to a beach called Ses Illetes, which is situated about 30 minutes from the centre of Palma, it´s so pretty, the sea is so clear and the views are amazing. When we arrived we had a drink in the bar and there we saw the famous football player and TV star of A league of their own´ Jamie Redknapp on the beach with his family, we couldn´t believe it, but later we found out that he has his own villa here in Palma.
Also, last Saturday me and my friends hired a minivan for the day, it wasn´t very expensive because there were 9 people to share the price which was good. We visited 2 beautiful beaches, one of the two was completely natural, there weren´t any bars, facilities or anything like that, just the sea, the sand and the sun! Mallorca truly is a beautiful island.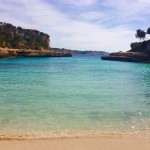 Another interesting thing for me was on Tuesday this week, because I had the opportunity to go to one of Meliá´s 5 star hotels, that´s situated right next to the sea with magnificent panoramic views. I went with my boss as she has organized everything for this huge event that was for all the important bosses and employees from all the different regions. My boss said to me that it would be really interesting to attend the event to see how things work and to learn new things about the business and the subject of Digital Marketing. For lunch there was a buffet with hot and cold food, desserts and drinks, and everything was free. It was really interesting and beneficial for me to listen to all the presentations in Spanish and to take part in the workshops.