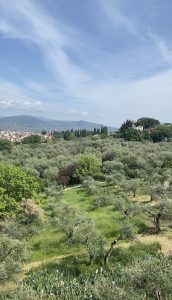 È veramente estate qui a Firenze, la sera si è allungata e il caldo si fa sentire. Con questo, il piccolo cortile che si trova all'ombra davanti alla nostra casa è diventato la nostra base. Per fortuna, la scuola e la biblioteca che frequento hanno l'aria condizionata contro il caldo soffocante. Tuttavia, quando sono a casa, questo spazio esterno ventilato e ombreggiato è la mia oasi.
Quando mi sono trasferita in casa, c'erano due ulivi ai lati della nostra porta d'ingresso. Il giardinaggio è sempre stato un mio interesse e mi sono affrettata a curare gli alberi che ora sono in buona salute e sono pronti per la prima raccolta delle olive. Esplorando la città, mi sono avventurata in molti giardini ben curati in tutta Firenze, non vedo l'ora di andarci per leggere un libro o fare dei compiti per l'universita'.
Questo mese, il Giardino botanico dell'Iris ha aperto per sfoggiare la fioritura di quest'anno. Seduti su un pendio collinare, migliaia di iris dai colori vivaci sono sbocciati di fronte alla città e verso la campagna. Ho visitato questo giardino lo scorso fine settimana e ho vagato lungo il sentiero esplorando i colori vivaci e sentendo il carico di lavoro della scorsa settimana dissolversi nei petali.
Staccare dal mio lavoro è qualcosa che posso fare attraverso il giardinaggio. Lavorando in un campo creativo è difficile spegnere il cervello dallo sviluppo di idee e dalla risoluzione dei problemi, ho imparato di aver bisogno di un modo per concentrare la mia mente su qualcosa di diverso e rilassarmi in un'attivita' separata. Pertanto, ho deciso di aggiungere al nostro piccolo giardino nel  cortile un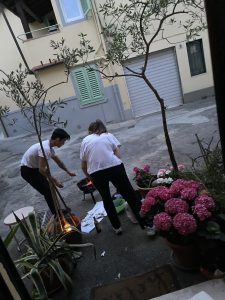 vaso e ora ho rinvasato un'ortensia,  ho piantato i gerani e ho messo un piccolo vaso di erbe aromatiche sulla porta d'ingresso. Quando faciio giardinaggio e vede i miei vicini troviamo sempre una buona scusa per scambiare due chiacchiere, dopo che le prime volte mi hanno dato il benvenuto nella mia nuova casa, spesso gli ho detto di servirsi nel mio piccolo giardino aromatico per cogliere qualche erba per le loro cene. Abbiamo anche acquistato un piccolo barbecue che stiamo usando molto e credo che sia una bella occasione per passare del tempo insieme.
It is truly summer here in Florence as the evening have drawn out and the heat sets in. With this, the little courtyard that sits in the shade at the front of our house has become our base. Luckily, school and the library that I frequent have a fridge-like effect against the sweltering heat. However, when I am at home this breezy and shadowed outside space is my oasis.
When I moved into the house, there stood two olive trees either side of our front door. Gardening has always been an interest of mine and I was quick to tend to the trees which now are in good health and showing signs of our first olive harvest. In exploring the city, I have ventured to many beautifully kept gardens across Florence in which I will settle down either with a book or with some schoolwork.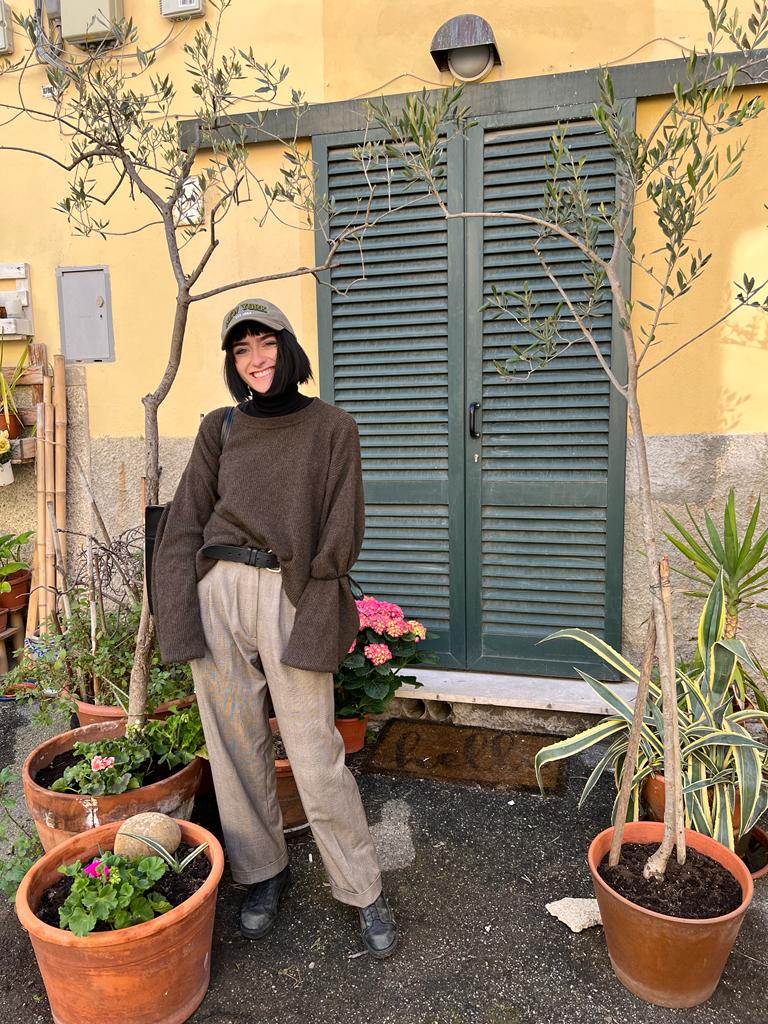 This month, the botanical Giardino dell'Iris opened its gates to show off this year's bloom. Sat on a sloping hillside, thousands of brightly coloured Irises have blossomed facing away from the city and out towards the countryside. I visited this garden this past weekend and wandered along the path twisting through the vibrant colours and feeling the past week's work-load dissolve into the petals.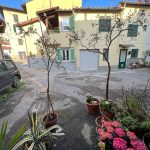 Switching off from my work is something that I can do through gardening. Working in a creative field in which it's difficult to turn off your brain from idea development and problem solving I learnt that I needed a way to focus my mind on something different and relax into a separate task. Therefore, I have decided to add to our potted courtyard garden and now am reviving a hydrangea, geraniums and a small herb pot at the front door. This is proving to be a great conversation starter with my neighbours who have commented on the nice bright welcome home and often like to pick some herbs for their dinners. We have even acquired a small barbeque which is getting a lot of use for communal cooking!