从上海的摩天大楼到黄山的山清水秀,从杭州风景如画的西湖到南京的热闹市中心,中国是一个充满反差的国家。上个月,我去了这四个截然不同的南方地方。这次旅途使我思考中国的一些反差。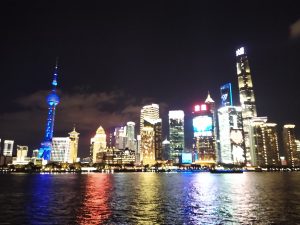 From the modern skyscrapers of Shanghai to the the beautiful scenery of Huangshan, from Hangzhou's lake which is as beautiful as a painting to Nanjing's bustling city center, China is a country full of contrasts. Last month I went to 4 completely different places. This trip made me consider some of China's contrasts.
上海是一个很多不同的文化的熔炉。到了上海,我的第一印象就是这个都市跟我以前去过的中国城市很不一样。除了有很多西方风格建筑以外,魔都还有很多外国居民。如今,很多外国人住在帝都,特别是在离许多名校很近的五道口和侨民枢纽的三里屯。不过,从我所看到的,上海的外国人数远远超过北京的。另外,上海也有各种各样的食物。比如,我有点惊讶于看到黎巴嫩菜和土耳其菜。在我在上海吃过的食物当中,我最喜欢的是那里的生煎和法国长棍和可颂。上海真是一个国际城市。
Shanghai is a melting pot of lots of different cultures. When I arrived in Shanghai, my first impression was that this metropolis was very different to other Chinese cities I had been to. Apart from the western style architecture, the 'modern city' (Shanghai) also has lots of foreigners. Nowadays, lots of foreigners live in the 'imperial city' (Beijing), especially in Wudaokou which is near lots of famous universities and in Sanlitun, an expat hub. However, from what I saw, the number of foreigners in Shanghai far exceeds that of Beijing. In addition, Shanghai also has all sorts of food. For example, I was a little surprised to see Lebanese and Turkish food. Out of all the foods I ate in Shanghai, my favorite were the Shengjian dumplings and the baguettes and croissant. Shanghai truly is an international city!
After leaving this modern, tier 1 mega city, I went to Huangshan. Because it was the low season, there were very few tourists. We climbed Huangshan whilst enjoying the bird song and fragrant flowers, the gentle wind and beautiful sun. In my opinion, Huangshan is paradise. Huangshan is definitely one of the most beautiful places I have been to, close behind Hangzhou's West Lake.
中文有一句老话说'上有天堂,下有苏杭'。这句话突出这两个城市的自然美丽。杭州以西湖著称于世。我们先在湖岸骑车,然后在西湖上坐船。在我的文学课,我们学了许多描写西湖的诗,比如白居易的《西湖留别》和 《杭州回舫》。看了西湖之后,我明白西为何这些诗人如何欣赏西湖。我们也参观了杭州旁边的一有梯田的个村子。
Chinese has an old saying that 'above there is heaven, below there are Hangzhou and Suzhou. This saying highlights the natural beauty of these 2 cities. Hangzhou is famous around the world because of West Lake. We first cycled on the banks of the lake, then took a boat on the lake. In my literature classes we have studied lots of poems describing West Lake (for example Bai Juyi's "Xihu liubie" and "Hangzhou huifang". After seeing West Lake, I can understand why these poets admire West Lake so much. We also went to a village by Hangzhou with field terraces.
南京和杭州很不一样。南京好像是个很热闹的城市,生活步骤也很快而杭州的生活步骤慢一点,人们的日子过得更轻松。给我留下最深刻的印象的活动就是游览孙中山纪念馆。在他的领导之下,中国从一个封建社会开始走上向变成一个更现代,更公平的国家的道路。这名先驱者的对中华民族的巨大影响是不可否认的。
Nanjing is very different to Hangzhou. Nanjing seems like a very lively city with a fast pace of life whilst Hangzhou has a slower pace of life where people's days go buy in a more relaxed way. The activity that left the deepest impression on me was going to visit Sun Yat Sen's Mausoleum. Under his leadership, China started on the path from being a feudal society to becoming a more modern, fairer country. This pioneer's enormous contribution to the Chinese people is undeniable.
我的西方朋友经常问我两个关于住在中国的问题:"你住在中国的体验怎么样" 和 "你觉得中国是什么样的国家"。前者很简单回答 (我超爱住在中国)可是后者更复杂。因为中国是世界上人口最高的国家,所以中国的不同的地方千差万别。有摩登的城市还有漂亮的风景。有多元的都市和传统的农村。除了中国菜 – 包括湘菜,川菜,粤菜 – 还有西餐,中东菜等等。有很安静的湖泊还有很感动的纪念馆。有中国人还有外国人。
My Western friends often ask me 2 questions about living in China: 'how is your experience of living in China?' and 'what sort of country do you think China is?'. The first question is very easy to answer (I love living in China) but the second question is more complicated. China is the most populous country in the world. This means there are vast differences between different places. There are modern cities and beautiful scenery. Diverse metropolises and traditional villages. Apart from Chinese food like Hunanese food, Sichuanese food and Cantonese food, there is Western food and Middle Eastern food. There are peaceful lakes and moving memorials. Chinese people and foreigners.
我之所以不能回答"中国是个什么样的国家"这个问题可能是因为中国的关键特征是它的反差。
Perhaps the reason why I cannot answer the question 'what sort of country is China?' is because China's key trait is its contrasts.